Presidential Teeth
Author: knietzer @andersonpediatricdentistry posted: Feb. 18, 2019.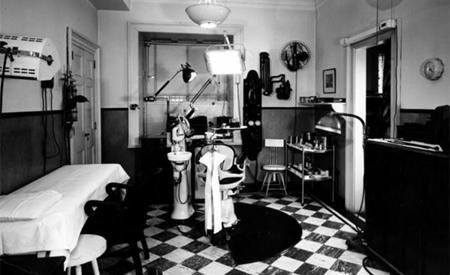 Butlers, chefs, valets, groundskeepers, maids, florists, ushers. . . did you know that these are all members of the permanent staff that takes care of the White House through each administration? It seems there are lots of people around to take care of the President's daily needs. But, did you know that the President has an official White House dentist, too? And why not? His teeth are an important part of his image and his health!
With all that the President has on his plate, you can imagine it would be hard to schedule a regular six-month dental cleaning and check-up. But, just because you become President, doesn't mean you can stop caring for your teeth! Apparently, President Hoover agreed. During his administration in the 1930s, an official dental office was installed in the White House basement. Prior to that, Presidents had already had an official Presidential Dentist, but now they have a place to work, right in the White House. 
The White House dental office may not have been very sophisticated when it was first built, but these days it boasts state-of-the-art equipment and a fully functional operatory. When a President or his family visits the dental office, they can receive treatment, much the same as you. The White House dentist performs regular check-ups, cleanings and X-rays, as well as any dental procedures that may be needed. He is expected to educate his patient on proper oral health and brushing techniques. Yes, even the President has to learn!
Of course, even a basement dental office and personal dentist can't do all the work. The President still has to brush and floss! 
If you are not the President and can't have a dental office in your basement, we would love to be your dentist. Call Anderson Pediatric Dentistry today at 864-760-1440 and let us give you Something to Smile About!
Category: Oral Health,&nbsp Teeth Cleaning,&nbsp Cleaning Tips,&nbsp Holiday
Tags: flossing,&nbsp Presidents Day,&nbsp President,&nbsp White House,&nbsp dental home,&nbsp care,&nbsp staff,&nbsp procedures