Soda. Is It Really That Bad for Your Teeth?
Author: knietzer @andersonpediatricdentistry posted: May 22, 2018.
Soda. Is it really that bad for your teeth?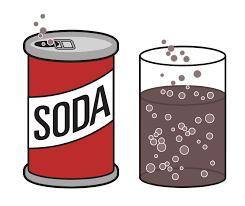 The short answer is yes. Sugar in soda, combines with the bacteria in your mouth to form acid, which eats away at your teeth. And diet drinks aren't necessarily better. They may not contain the sugar, but both regular and diet, or "Sugar-free" sodas contain their own acids which attack the teeth.
Erosion begins when the acids encounter the tooth's enamel. This is your tooth's protective covering. Think of it like an eggshell. Once it's softened or eroded, there's nothing left to protect the sensitive inside of the tooth, often leading to further damage of the next layer, the dentin, and cavities.
The reality-
While drinking water is the best option, we aren't saying that you can't enjoy an occasional, refreshing soda. But, we are going to give you tips to help lessen the damage.
Don't Sip All Day –
Each time you drink a sugary beverage, whether it's soda, lemonade, fruit juice or sports drinks, the acids from the drink and those formed by the sugar and bacteria in your mouth will attack your teeth. With each sip, this attack will begin again and last for about 20 minutes. If you sip sugary drinks all day, your teeth are under constant attack. If you choose to drink a sugary drink, don't sip it over a long period. Consume it all at once. This means that children should not be drinking sugary drinks, even fruit juice, from a sippy cup or bottle throughout the day.
Limit or Eliminate Sugary Drinks-
Water is your best option, and milk provides the calcium needed to actually strengthen your child's teeth. While we would love to see all sugary drinks eliminated from your child's daily diet, we realize that it may not happen immediately. If you can't eliminate it, at least choose to limit sugary drinks to no more than one soda a day. Aside from empty calories that children don't need, even one soda a day will do damage.
Use a Straw- 
Drinking out of a straw will help to keep the damaging acids and sugars away from your teeth.
Rinse Your Mouth With Water-
Rinsing your mouth with water after drinking soda will help to wash away any excess sugars and acids and stop them from continuing to attack your teeth.
Brush, but NOT Right Away-
While it may seem smart to brush your teeth right after drinking a soda, it can actually do more harm. The teeth that have just been attacked by the acid are vulnerable and the friction from a toothbrush can actually damage the enamel. Rinse with water after drinking a soda and then brush 30-60 minutes later.
Avoid Soft Drinks and Sugary Drinks at Bedtime-
Consuming a soda before bed will allow the sugar and acid to attack your teeth all night long!
Get Regular Dental Cleanings-
Regular check-ups and exams will help to identify and monitor any problems or damage before they worsen or become painful.
Choose Wisely-
Again, water is always best. But, if you are drinking soda, there are some that are "better" than others, or at least, not as bad.
Check out the table below from the Mississippi State Department of Health's website
Acid and Sugar in Soft Drinks
| | | |
| --- | --- | --- |
|   | Acidity | Sugar Amount |
| Battery Acid | | 0 |
| Pepsi | | 9.8 tsp. |
| Coca-Cola | | 9.3 tsp. |
| Minute Maid Orange Soda | | 11.2 tsp. |
| Dr. Pepper | | 9.5 tsp. |
| Gatorade | | 3.3 tsp. |
| Nestea | | 5.0 tsp. |
| Diet Pepsi | | 0 |
| Mountain Dew | | 11.0 tsp. |
| Minute Maid Grape Soda | | 11.9 tsp. |
| Diet Coke | | 0 |
| Diet Dr. Pepper | | 0 |
| Sprite | | 9.0 tsp. |
| Barq's (Root Beer) | | 10.7 tsp. |
| Pure Water | 0 | 0 |
We hope this information will help you and your family to make informed decisions regarding your child's diet and oral health. As always, Anderson Pediatric Dentistry is always available to answer your questions and discuss your child's individual needs. Call us to schedule your appointment today (864-760-1440) and let us give you and your child Something to Smile About!
Category: Oral Health,&nbsp Food and Diet
Tags: staining,&nbsp coke