Seal Out Summer Cavities
Author: Ashley Nietzer posted: Jun. 01, 2021.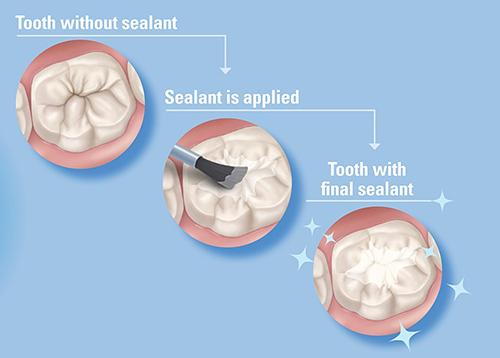 Summer months are almost upon us. School will be out soon and kids will find themselves with more free time and more relaxed schedules. While we all look forward to the break from the daily school routine, this change in routine may not be great for your child's teeth.
As creatures of habit, changes in our routine- big or small- can often lead to changes in oral health care. Later nights, sleeping in, not getting dressed until noon or living in a swimsuit all sound fantastic. But these lifestyle changes can lead to children brushing their teeth less, or not as effectively. The act of brushing their teeth that was once a part of their early morning school routine may get pushed off until lunch time, or forgotten completely. More time for snacking and increased consumption of sugary treats and drinks increases the risk of cavities.
While we, your local Anderson pediatric dentist, always recommend that you stick to your routine of brushing twice a day and flossing daily, we know how life can get away from us. Your child can't forego brushing in the summer, but we can offer you an extra defense to fight off those cavities! Dental sealants on your child's back teeth are a great preventative measure that can protect your child's teeth and help keep cavities at bay.
Dental Sealants are thin coatings that your Pediatric Dentist paints onto the chewing surfaces of the back teeth (molars). These teeth are often the most difficult for kids to reach and brush properly. Sealants protect the chewing surfaces from cavities by covering them with a protective shield that blocks out germs and food and prevents food particles and sugar from sitting on the teeth and forming cavities. According to the ADA, once applied Dental Sealants protect against 80% of cavities for 2 years and continue to protect teeth against 50% of cavities for up to 4 years. That is definitely "Something to Smile about!"
Dental sealants last for several years and gradually wear away over time. Your Anderson Pediatric Dentist will check the sealants at routine visits to make sure they are still on and in good shape. Dental sealants can be re-applied when needed and are always a great option to consider for your child's dental health, especially before summer break when we expect brushing routines to change.
If you have questions about Dental Sealants for your child, or you are looking for a Pediatric Dental home for your family, Anderson Pediatric Dentistry is here for you, Call us at 864-760-1440 and let us give you, "Something to Smile About."
#SmileMore
Category: Oral Health,&nbsp Cavities,&nbsp #SmileMore,&nbsp Preventative Care,&nbsp Dental Sealants
Tags: sealants,&nbsp Kids teeth sealants,&nbsp cavity prevention kids